The boat
Come and join us to embark on Podorange our 20 meters steel sailing ship, offering safety and comfort required for an exceptional cruising.
Overview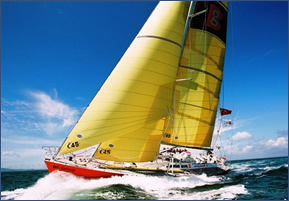 Podorange is one of 13 Challenge 67, racing boat built in England in 1996 (plans David Thomas). He attended the renowned Global Challenge 96/97 (Race around the world, upside down, and crewed with stops).
Perfectly adapted to the polar regions, our yacht offers all the safety and comfort required for expeditions and cruises in the Southern regions. It has a high autonomy and high capacity (9 people in addition to the crew).
The sleeping cabin is a double / single bed layered ultra comfort at sea. Our vessel has two bathrooms and two toilets, easy to use. As for water, our watermaker keeps us in complete autonomy. Everyone can even take a hot shower every day!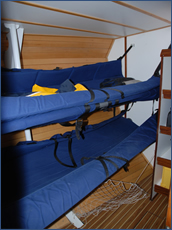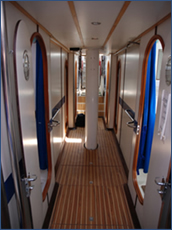 Our large square can accommodate the entire crew at once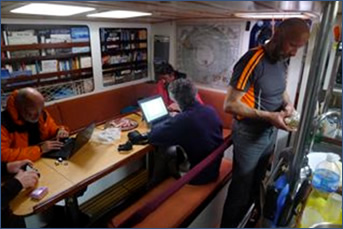 Regarding the equipment, of course we offer the opportunity for our crew to reload their different electronic equipment (laptop, phone, camera, etc.).
Podorange is comfortable sailing boat, equipped with modern navigation systems and efficient means of telecommunication (Phone Mini-M satellite, audio-visual and computer)
She is also a clean and environmentally friendly boat (especially to meet the standards of IAATO (International Association of Antarctic Tour Operators). Thus, to reduce the use of the generator, we are equipped with a wind turbine last generation and to avoid any discharge of dirty water, Podorange has a large reservoir of dirty waters.
Specifications :
LOA: 20.42 m
LWL: 17.76 m
Width: 5.26 m
Draft: 2.82 m
Displacement: 38 tons
Sail Area (upwind): 223 m²
Engine: Perkins 135 hp
Comfort :
Capacity: 6 cabins / 12 bed
Linen provided (sheets, duvets, pillows and towels)
1 generator / wind 1
2 heaters (forced air)
2 toilets / bathrooms (hot water)
220 V in each cabin
Diesel: 1900 liters
Freshwater tanks 1100 liters + watermaker
The mood / atmosphere
No need to be in love with the sea or sailing enthusiasts to embark on our boat: What we'll discover, it is primarily the wild beauty of the Southern regions, the still preserved richness of their environment, and some travelling spirit (curiosity, friendliness, respect and sharing are the key words).
Traveling on a sailboat is both a privilege and a requirement :
Privilege: the yacht is the only mode of transport to reach places inaccessible: anchor at the foot of glaciers, discover the wildest shores, alongside the fauna and flora of the South, approach the beautiful bays of the Antarctica.
One requirement: The ship, however great it may be, is a small living space. For the stay of our team to remains an exceptional memory for them, we ask them to participate in the life on board (night shifts, if any, participating in maneuvers, etc.). A boat is not a floating hotel, it is a community where everyone must be involved so that the stay takes place for the better.